I recently had a look through all the wedding photographs I took in 2013. I noticed how very different the weddings were. It is this diversity that makes being a wedding photographer so interesting and enjoyable.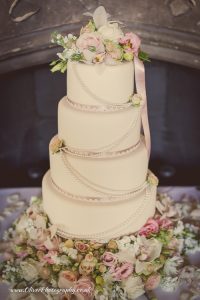 Something that drew my attention in particular was the great variety in the wedding cakes. Many of them look too good to eat; they are more like works of art than cakes. It seems there is no limit to wedding cake ideas. The designs and how elaborate they are depend solely on how much money you want to spend.
From all the wonderful wedding cakes I saw last year, I have chosen three that, in my opinion, are the most beautiful. I wonder if you will agree?
The first one combines simplicity with elegance. The light, gentle decoration makes this a stunning and unique creation. The design was based on a traditional Italian wedding cake and I think it works really well
The second cake is a Christmas wedding cake composed of many small cakes that look like gifts all joined together. It is certainly very original and unusual and very beautiful to look at. It is entirely handmade.
The most impressive of them all is cake number three. It was made by the groom's father who runs a bakery in Peterborough. As a baker, it was his dream to make a wedding cake like this but few couples are keen to spend the amount of money he would have to charge to make it. At least he was able to showcase his talent by making one for his son.
He styled it on a vintage wedding cake and it took three days to make. All the details, the ring and the little birds, made it something extraordinary. Once completed, it was too heavy for one person to lift without help.
I expect you are wondering if I tried these cakes, and what did they taste like? Well, I'm sweet enough so I didn't eat any cake at these weddings. In my job I need to be fit to spend all day on my feet. I don't need to be carrying extra baggage – the cameras and equipment are heavy enough to start with.