As every wedding photographer knows, it is always the bride who must be the centre of attention at weddings, but that shouldn't stop the groom from trying to look his best. He may not be the star of the show, but he can certainly shine as a stylish supporting act. The traditions surrounding male wedding attire date back to the Victorian era. The well-to-do and upper classes wore black trousers and frock coats, white waistcoats and cravats, while men serving in the armed forces would wear their uniforms to get married in – a custom that continues to the present day.
A groom may opt for a traditional morning suit, which comprises a morning coat, waistcoat and trousers of the same material and colour – very often grey. This is regarded as formal daytime wear for men attending weddings and civic functions, or seasonal events, such as Royal Ascot. A less formal version of the morning suit is the stroller, which is similar to morning dress but the coat has no tails.
A groom might decide to wear his national dress, of course, to show his pride in his country and heritage. Kilts are a very popular example of this.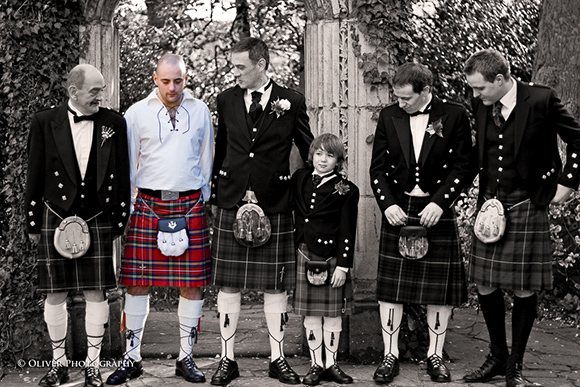 Perhaps the bride and groom have decided on a themed wedding, anything from vintage to fancy dress, but if not there is a very wide range of casual and formal male fashion available to choose from. What is important is that the clothes chosen are a good fit and comfortable to wear.
Tuxedos, which were first worn in England in 1886, were to become a very common garment for grooms by the twentieth century. A white tie tuxedo is the most formal evening attire a man can wear and is associated with royalty and diplomatic occasions. More commonly seen at weddings is the black tie tuxedo.
The features of this elegant, refined look include a black necktie or bow tie, highly polished, black dress shoes, a cummerbund or waistcoat, a white wing-collar shirt, and black trousers with a satin stripe down the sides. If the groom feels he will never need a tuxedo again, he can always rent one for the wedding, but having at least one well-tailored suit in the wardrobe is always a good idea.
A groom may not be interested in fashion at all, but he must surely acknowledge that there is nothing smarter than a man in a suit. Getting married is the one occasion when a man has every right to treat himself to a sophisticated and stylish garment that will make him look superb on the wedding photographs, do justice to his lovely bride, and leave him with a classic suit of clothing that he will be happy to wear on many future occasions.