If you are looking for a wedding venue in the Peterborough area that ticks all the right boxes, while being able to offer you a bespoke wedding service to suit your budget, then look no further. The William Cecil Hotel, St Martins, Stamford, is everything you could desire in a venue. The management of the hotel believe that every wedding is a unique experience and they design each event to accommodate the wishes of the bride and groom. Their friendly and efficient staff are always ready to help with any problems or queries, from the initial planning of the wedding and throughout every stage of the day itself.
The hotel stands on the edge of Burghley Estate and the town of Stamford, surrounded by the beautiful Lincolnshire countryside. It has been completely refurbished to a very high standard.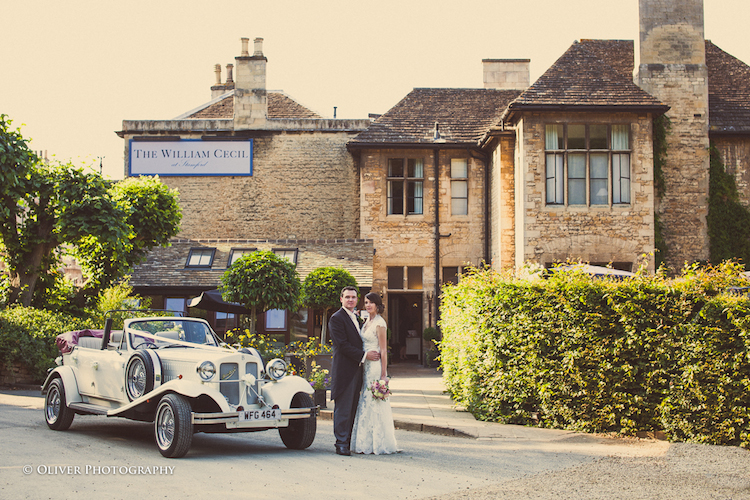 They staff can put together a personal plan for your wedding and give you a quote for their services – there is no rigid rule telling you what you must have, nor do they offer 'price per head' packages. Each wedding is treated as a unique occasion, with the requirements of the happy couple being the top priority.
There are four rooms to choose from and the hotel is licensed to provide civil ceremonies for over a hundred guests. The hotel also boasts amazing menus and a good choice of wines. They can cater for wedding breakfasts of up to one hundred and fifty people.
Apart from a choice of reception rooms, there is also a garden marquee with a bar, and the bridal suite has its own private garden. The hotel itself has twenty-seven beautifully decorated, immaculate rooms should any of your guests wish to stay the night. The historic town of Stamford is within walking distance and there is ample parking for all your wedding party. The outside area of the hotel is very pleasant too and a lovely place to sit and enjoy a glass of wine or two, especially on a summer's evening. The management and staff of the William Cecil Hotel pride themselves on giving their customers a warm welcome and excellent service. If you are looking for an amazing wedding venue in a building that has style, luxury and a superb location, why not contact the hotel and ask for a wedding brochure and take the first step towards planning your perfect wedding day.