Since recorded history began, flowers have played a major role in ceremonial occasions. Weddings are one of our most important ceremonies and so they have accumulated many floral traditions. A wedding without flowers just wouldn't feel like a proper wedding. As a wedding photographer I know the importance of recording the presence of flowers at the weddings I attend, whether they are in bouquets, garlands or table decorations.
It is believed that the ancient Greeks were the first people to use wedding flowers in the form of garlands worn around the head. The bride's bouquet originated as a collection of herbs, spices and garlic, designed to ward off evil spirits and airborne infection. In medieval times, when people were not likely to bathe very often, highly-scented flowers in the bridal bouquet could mask a variety of unwelcome odours.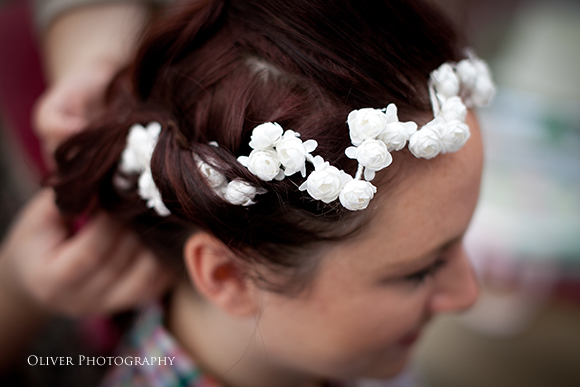 The bride could also wear flowers in her hair and have herbs sewn into her dress to make her more fragrant!
These days, most people bathe on a regular basis, but the appeal of flowers is still as strong as ever, thanks to their aesthetic appearance. Garlands and floral decorations seem to become more elaborate all the time. Roses have always been a popular choice of wedding flower and the different colours of this particular bloom have different meanings.
White is for purity and beauty, while red is for passionate love. Pale pink denotes grace and happiness, while dark pink is for gratitude at having found true love.
It has become the norm for wedding flowers, particularly those in the bridal bouquet, to be chosen to reflect the time of year or location. At most modern weddings the bride also wears a corsage – a floral spray or garland worn around the wrist or pinned to her dress. This is usually designed to match the rest of the bride's attire. The groom will also wear a small spray of flowers, or a single flower, in his buttonhole or pinned to his lapel. This is a male tradition that is now a standard feature of most weddings.
And what would the reception be without stunning and elegant table decorations? These are such a memorable part of the wedding day that wedding photographers know they must include photographs of some of these arrangements in their wedding album. Hours of work will have gone into their making and it would be a shame if they were forgotten in years to come.
 So, when you are planning your wedding, finding a good photographer is essential, but so too is hiring the services of a reputable florist. There is an art in creating eye-catching and stylish floral arrangements and bouquets, while at the same time making them appropriate for the occasion.
The florist will know a great deal about the uses and meanings of different flowers, and may suggest, for example, that you include ivy to represent fidelity, or daisies for innocence and romance.
But make sure you ask for stephanotis. It is a very popular flower in wedding bouquets, and no wonder, because in the language of flowers it symbolises happiness in marriage.