Wedding photographers in Peterborough are well acquainted with the Bull Hotel. Situated in Westgate, it is a very popular choice as a wedding venue, having an excellent reputation for providing the complete wedding package and doing so to a very high standard. It is also a licensed venue for civil ceremonies. As a wedding photographer I am always impressed by the venue's grand, stone-clad façade which has all the charm of an earlier epoch. A few wedding photographs taken in front of this old building are a good idea.
They will have an air of traditional elegance about them, and even in these modern times we all like to be reminded of the past, to give us a feeling of continuity from generation to generation. Wedding photographers always like to contrast the old with the new in this way.
Until 1901, the Bull Peterborough was a small coaching inn, dating from the seventeenth century, and had a mere eight rooms. It has had careful restoration and refurbishment over the years and is now a Grade II listed, AA 4 star establishment, offering a high level of comfort with all the facilities one would expect of a modern-day venue. The Bull prides itself on its friendly, efficient staff and is very experienced when it comes to catering for weddings and other big events. There is a dedicated Wedding Co-ordinator too, who will help you plan your wedding down to the tiniest detail.
The Bull Peterborough also has an extensive and varied menu and happily caters for special dietary requirements. There is also plenty of free, secure parking for guests. Wedding photographers and guests alike will have no problems travelling to this venue, because the Bull is conveniently located in the heart of a city that has major road and rail networks.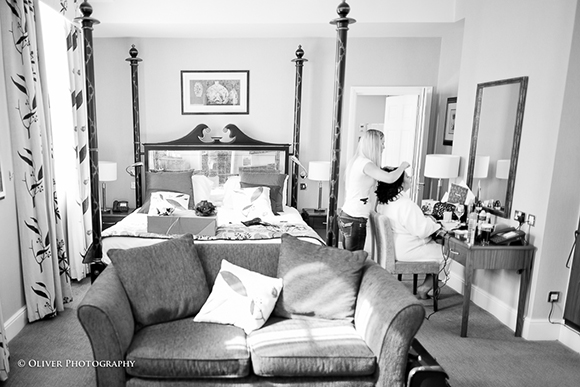 There is a good choice of superbly appointed suites at the Bull. The Broadway Suite offers traditional surroundings for over 70 guests and for evening receptions of up to 250 people. There is a private bar and cloakroom too, as there is in the Penthouse Suite, which is a self-contained building in a contemporary style, also for larger wedding parties. Smaller family weddings are more suited to the Medhampstead Room, which is an airy day room, tastefully decorated with some antiques and period pieces; a very traditional and intimate setting for your reception and wedding photographs. This room accommodates wedding parties of up to 25 people and includes use of the venue's main bar and cloakroom facilities.
The Bull Peterboorugh also hosts 'wedding fayres' – the next one is on 3rd February, 2013. Admission is free and you will find everything you need under one roof to help you plan your wedding. Having problems finding the right gown, flowers or wedding cake? Worried that you won't have the wedding photographs of your dreams? Taking advantage of the professional advice available at these wedding fayres will help you make up your mind and give you all the information you need to plan your perfect wedding day.
The Bull Hotel Peterborough

Westgate, Peterborough PE1 1RB

Tel. 01733 561364