People in Rutland area can thank the public outcry of 1970 for saving Normanton Church from destruction. This Grade II listed building now provides a unique venue for civil wedding ceremonies and a stunning backdrop for wedding photography. Lying just east of the town of Oakham and easily accessible by road, the church stands at the edge of Rutland Water, the largest reservoir in England and one of the largest man-made lakes in Europe. When the reservoir was being constructed the church was deconsecrated and earmarked for demolition, but was saved because of public opposition.
The floor of the church was then built up with rubble topped by concrete, creating a new floor above the water level, and an embankment was constructed around the outside of the building. It is now home to a museum devoted to the history of the reservoir, which is itself a major visitor attraction and a centre for sailing, fishing, cycling and bird-watching.
Normanton Church was once the private chapel of the estate of the earls of Ancaster and is Rutland's most famous landmark. Its unique setting has made it a popular venue for civil weddings. You can hire the church for two hours at a cost of £600 and celebrate your wedding with up to 102 guests.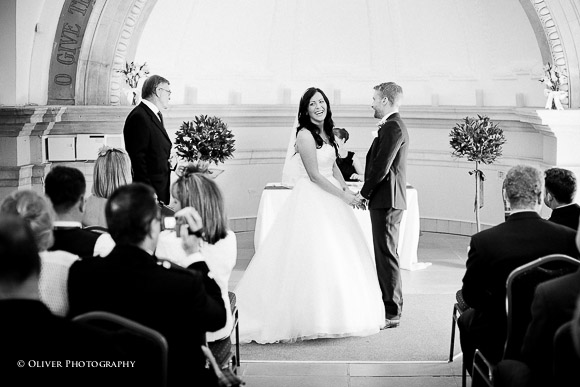 Even though the ceremony will be conducted by a registrar, the magnificent interior and atmosphere of this beautiful, old building has all the charm and romance you would expect at a traditional church wedding.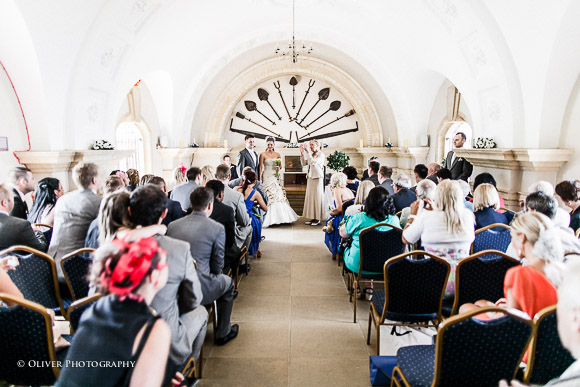 Hire of this venue includes the two bay trees that will be placed either side of the church entrance, Inside, the chairs are blue and gold, while five silk flower arrangements in white and beige with gold sparkles, which complement the building's interior, will be tastefully set out. Also provided on the day will be ten church candles and a blue table-runner.
Because weddings at this venue are civil ceremonies, before you proceed with your booking it is vital to make sure that a registrar will be available for the same day and time as Normanton Church. The civil ceremony itself will last around fifteen to twenty minutes.
With its fascinating history, classically beautiful architecture and spectacular views across the reservoir, Normanton Church is a truly unique wedding venue.
If you choose to hold your wedding ceremony here, its fairy-tale backdrop will help your wedding photographer create a very distinctive and stunning wedding album; something that will forever allow you to tap into an endless reservoir of magical memories of your wedding on the water.