A well-chosen veil can turn a beautiful dress into something truly stunning, so make sure your veil complements the overall theme of your wedding. The modern bride has an array of different veils to choose from; they can be long or short, plain or elaborately decorated. The material of the veil can vary too, with lace and tulle being among the most popular. It's a good idea to try veils of different lengths when you try on your wedding outfit and also to consider the best embellishments to enhance the whole ensemble. There are other important factors to consider when choosing your veil. For example, petite ladies will look lost in a long, full veil, while an overly embellished veil will make an equally elaborate dress look far too busy. Complement an embellished dress with a plain veil, and vice versa.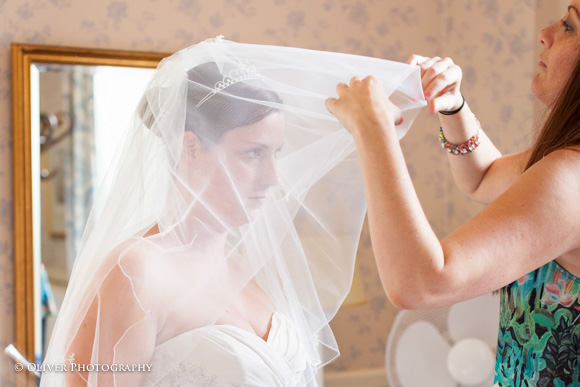 The tradition of the bride wearing a veil takes us back to ancient Greece, when it was a device thought to conceal the bride and so protect her from evil enchantments. The Romans veiled their brides in flame-coloured veils to scare away any malevolent spirits. In Medieval times the veil represented the bride's purity and virginity. By lifting the veil, the groom symbolised his right to take possession of his new wife.
Lace cloche-style headdresses were favoured by brides in the 1920s, when veils would usually be made of silk and have a floral design that mirrored the flowers in their bouquets. By the 1930s, veils were less elaborate and worn loosely draped over the head. After World War II, the small birdcage veil became popular, and this trend has recently made a comeback.
In the 1950s, tight-fitting skullcap veils were the fashion, while long voluminous veils dominated the 1960s and 1970s to reflect the more modern culture of the age of 'flower power' and the hippy. In the 1980s, Princess Diana's twenty-four-foot long veil made a very bold fashion statement for modern brides.
Nowadays, the veil is viewed as a formal accessory that completes a traditional-style wedding outfit, although the royal wedding in 2012 started a new trend among brides and the wearing of a veil is again becoming very popular. In Western society her wedding day is probably the only time a woman will have occasion to wear a veil, so it must be something she feels is right for her. Every bride has an image of how she would like to look at the wedding of her dreams and the veil can, and should, make a major contribution towards turning this dream into a reality.