Every wedding photographer knows how important it is to take good wedding photographs of the wedding cake. This is always a magnificent cake and an essential part of the wedding day. Photographs of this towering centrepiece, and of the bride and groom cutting the cake together, are one of those traditions without which no wedding would be complete. We have to go back to the days of ancient Rome to find the origins of the wedding cake. It was the custom for a groom to break bread over the head of his bride to symbolise her lost maidenhood.
This act was supposed to attract good fortune. In Medieval England a stack of sweet rolls was built up as high as possible, and if the bride and groom could kiss over the top of this baked fare without disturbing it, their future prosperity was assured. Legend has it that this inspired the French wedding cake, which is constructed of profiteroles with a topping of spun sugar.
From the seventeenth to the early nineteenth century, a dessert called the bride's pie was served to guests at the majority of weddings. To eat a piece of such a pie was considered lucky. The pie, now strongly symbolic of the bride herself, gradually became the bridal cake and was a fruit cake – literally in the hope that the marriage would be fruitful!
As time passed, the modern wedding cake evolved with its white icing, representing the purity and virginity of the bride. In the nineteenth century, when refined sugar was still expensive, wealthy, high-ranking families would show off their status by ensuring their daughters' wedding cakes had the whitest icing possible. It was Queen Victoria's white-frosted wedding cake that gave this type of decoration a new name – royal icing.
Different cultures have their own style of wedding cake. A dome-shaped cake covered in green marzipan is a Swedish tradition, while in Greece a flat cake made from a type of pastry is served, with fruit and syrup for flavouring. The Jamaican dark wedding cake is heavily laced with brandy and rum, while the Italians prefer filo pastry with chocolate, strawberries and vanilla.
On a traditional wedding cake it is usual to have cake toppers consisting of tiny models of the bride and groom, wearing formal wedding clothes. These days, people are more likely to choose toppers that reflect the theme of their wedding.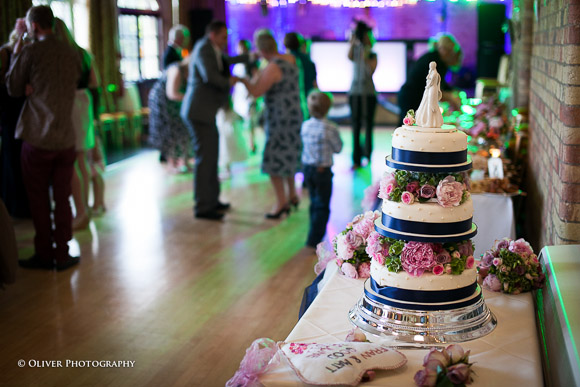 Moving away from the traditional style of wedding cake is uncomfortable for most couples, but those wanting to be a bit more adventurous could redesign their cake and have three separate cakes displayed in a linear rather than a vertical arrangement, or perhaps a three-tier display of individual cupcakes, all beautifully decorated to suit the wedding theme. Those who have a sense of humour and want to completely break with tradition – or perhaps just don't like cake – could take advantage of the latest trend and have a wedding cheese cake – which really is made entirely of cheese!