Brides today are often overwhelmed by all the information available when they start to research possible wedding venues. Cost is a major consideration when making a choice. At Oliver Photography we thought it might be helpful if we did a price comparison of the wedding packages of five of Peterborough's top venues. They are all popular venues with plenty of experience in the industry and, while each has its own particular charm or unique features, they all provide the comfort associated with the modern age plus excellent accommodation, menus and other facilities.
What is the cost of a wedding at Orton Hall Peterborough
One of Peterborough's most popular wedding venues is Orton Hall, a grand old manor house set in the picturesque village of Orton Longueville. They offer a package that includes the hire of a ceremony room and a room for your reception and evening celebrations. There are drinks on arrival and a three-course wedding breakfast with coffee, or tea, and mints. Also included are an evening buffet and disco and a complimentary four-poster bedroom for the happy couple.
While you have the assistance of a wedding co-ordinator to plan your special day, there is also a duty manager who will run the day for you and act as your toastmaster.
The wedding breakfast at Orton Hall always includes a bread roll and butter, two glasses of house wine, and a glass of sparkling wine for the toast. There are three menus to choose from, plus a children's menu and vegetarian options. You can choose between two different options for your evening buffet menu.
If you intend to have fifty guests during the day and up to thirty extra guests in the evening, the price for this whole wedding package will come to £4,950.
Seventy guests during the day with an additional thirty in the evening will set you back £5,950. One hundred daytime guests and forty additional guests at the evening party will cost you £7,650. Any additional guests will each add £75 to the bill, but extra guests attending the evening do only will cost an extra £11.65 per head.
These prices are inclusive of VAT and valid until 31st December, 2014. Prices for 2015 have not yet been decided on but will be increased by between 7.5 and 10 %.
If any of your guests plan on staying overnight at the Orton Hall, room prices depend on factors such as the type of room required and the time of year and vary between £55 and £120 per room. Dogs are welcome too for an extra £15 per night!
Cost of a wedding at The Haycock, Wansford
The very popular Haycock Hotel, Wansford, offers the perfect setting for those all-important photographs and their friendly wedding co-ordinator can help you take advantage of everything this venue has to offer to make your special day truly memorable.
They do a 'Just for You' wedding package, available on Fridays and Sundays throughout 2014 and 2015, which they have designed to provide you with everything you will need. This package includes most of the usual features, such as room hire, a three-course wedding breakfast, wine, evening buffet and a room for the bride and groom on their wedding night. It also includes the services of a toastmaster and the red-carpet treatment for the happy couple on arrival.
Their Mistletoe and Wine wedding packages for 26th-30th December will also feature spectacular festive decorations.
Prices for these wedding packages work out at £55 per head. They do bespoke weddings too, but naturally the cost of these will vary depending on what you want. All prices will be reviewed sometime in June or July so any weddings booked after that may be subject to the new rates.
The Haycock Ballroom seats up to 240 guests. Their Drayton Room and Barnaby Room accommodate smaller parties of between sixty and one hundred guests. The wedding co-ordinator can help you select the right setting for both the ceremony and the reception.
There are also forty-eight bedrooms so your guests can stay overnight if need be. The price for these depends on the day and date. Saturday rates for classic double rooms, with B&B for two guests sharing, is £95.00 – this is the reduced rate for wedding guests.
The Bell Inn Stilton, Peterborough – wedding prices
Located in Stilton, about six miles south of Peterborough, is the charming and historic Bell Inn with its romantic wishing well, stone courtyard and picturesque gardens. It is a much-sought-after wedding venue, combining traditional elegance with modern comfort.
Licensed to hold civil wedding ceremonies, the venue is able to organise your entire wedding day for you. It provides a choice of three rooms for your ceremony and reception.
The Marlborough Suite accommodates up to ninety-five people for a wedding breakfast or 130 for a buffet. The Bistro caters for between fifteen and fifty guests, while the Galleried Restaurant seats up to twenty-four.
Booking for the Marlborough Suite on a Saturday from May to September inclusive must be for a minimum of sixty-five full-paying adults for the wedding breakfast and a minimum of eighty-five people in the evening. If you require this room after 6pm, food must be supplied for guests attending the evening reception.
Prices for their wedding packages are:
Fifty day guests and fifty evening guests – £3,600;
Seventy day guests and ninety evening guests – £4,550;
Ninety day guests and 120 evening guests – £5,750.
The venue can also offer you a tailor-made package to suit your requirements, plus an exclusive wedding menu.
Should your guests require overnight accommodation, room prices vary between £80 and £140. All prices are inclusive of VAT but may be subject to any price rises that take effect after 2014.
As well as room hire for the wedding and reception, these prices include drinks on arrival, a three-course wedding breakfast, a half bottle of wine per head, a glass of sparkling wine for the toast, use of the cake stand and knife, white linen, a light evening buffet, a disco, and a four-poster bedroom for the happy couple. The services of a wedding co-ordinator are also part of the package.
How much does it cost to get married at Peterborough Marriott Hotel
The Marriott Hotel, standing in eleven acres of well-maintained grounds next to Peterborough Business Park, is a wedding venue with a wealth of experience and has several function rooms that are licensed for civil marriage ceremonies. Their wedding co-ordinator is on hand to provide you with any advice or information you might need to help you make your wedding day truly the best it can be.
The Marriott's wedding packages include the services of a Master of Ceremonies and you will get the red-carpet treatment on arrival. As well as linen napkins and tablecloths, there is an extensive menu to choose from that is sure to suit all tastes. The happy couple will also be given a complimentary deluxe double room for their wedding night.
The Peterborough Marriott's largest room is the Sir Henry Royce Suite, which overlooks the lake and has a private foyer and bar. Room hire for a minimum of eighty full-paying adults during the day and 130 people during the evening will cost you £400.
The Emperor Suite has concealed lighting for a romantic atmosphere and hire of this room for seventy full-paying adults during the day and 100 evening guests is £300.
Should you choose either of these rooms for your wedding, your reception will then consist of drinks on arrival, a three-course wedding breakfast, a set drinks package and an evening buffet for a minimum of ninety per cent of your guests.
One set menu is to be chosen for the wedding breakfast, although vegetarian and other dietary requirements can be catered for. The package works out at around £46.95 per head; the evening buffet between £12.95 and £19.95 per head.
Additional features such as a continental cheese board, chair covers or wedding stationery, are available for an extra charge. A non-refundable deposit of £500 is required and the balance must be paid fourteen days prior to the wedding day. Prices include VAT.
The Marriott has 163 en suite rooms so your guests can stay overnight. Their special wedding rates are £70 for a single with B&B and £80 for a double/twin with B&B.
The Sibson Inn Hotel, Peterborough – wedding prices for 2014
Choosing the Sibson Inn Hotel for your wedding venue guarantees you exclusive use of both their marquee and all the other facilities of the place, because it only caters for one wedding at a time. Situated five minutes' drive from Peterborough's East of England Showground, the Sibson Inn can accommodate wedding parties of up to fifty people for a wedding breakfast or up to seventy-four for marriages and civil partnership ceremonies in the Wansford Hall room, for which there is a hire fee of £250.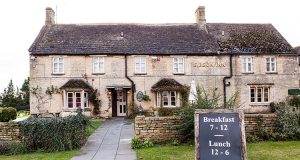 The hotel's larger room, Nassington Hall, is licensed for marriages and civil partnerships comprising up to forty-six guests. Hire of this room is £200. The Elton Room is ideal for more intimate gatherings of up to forty-three people and the charge to hire this room is £150.
The Marquee provides the perfect setting for your wedding breakfast, able to accommodate between fifty and 140 people. It is ideal for an evening party and disco too, as it adjoins the other function rooms, giving access to all the Sibson's facilities. Exclusive use of the Marquee and function rooms is £1,200, or £1,500 if you include your ceremony as well.
These prices are for the 2014/15 season and are reviewed every January, although any change in market costs may cause an alteration in the Sibson Inn prices before then. Some minimum charges also apply for weddings booked on Saturdays.
The venue offers set menus as a guide but will be happy to provide other options on request. The menu works out at around £35 per head and for that you also get service, white table linen and napkins, plus a cake knife and stand. You can choose from two starters, two main courses and two desserts. There is also a vegetarian option.
For your evening buffet you should expect to spend £10-£15 per person. Hog roasts start at around £12 per head.
The Sibson Inn can book you a disco for £300, or you can book your own. The bar stays open until 12.30 am and you can book a live band if you wish.
En suite single rooms for your guests are around £79, and £89 for a double, depending on the day, time of year and type of room required. The venue has nineteen rooms. If all other double rooms are booked, the honeymoon suite is free of charge for the bride and groom. If not, this suite costs £130, which includes B&B.
Comparing the prices of Some of Peterborough's Leading Wedding Venues
Comparing the prices of these venues, the conclusion seems to be there isn't a great deal of difference between them in the overall cost and the services they provide. There are many variables; the number of guests, the time of year, the additional extras required, for example. These factors can all serve to increase or lower the final bill. What matters in the end is how the bride and groom feel about the venue itself. Is it comfortable, clean and welcoming? Is the staff experienced and friendly? Does the place have the right atmosphere?
Most of all, if you picture yourself in years to come, looking through your wedding album, will the venue you have chosen be the one you'll want to see as the setting for all your lovely wedding photographs?